Best of 40 (3~5 minutes), Best of 300 (6~10 minutes) Rock-Paper-Scissors Experiments!
Like Rock-Paper-Scissors??? Do you usually win when its best-of-5, best-of-10? Find out if you're just lucky or you're actually good!!! Play against The Machine in one of these two tournaments, and help us figure out how humans compete!!!

vs Pre-programmed Rule Machine Play best-of-40 games against 4 different machines that follow simple pre-programmed rules (but will occassionally fail to follow its own rules). Let's see if you can figure it out!

vs Machine that does learn. This machine is constantly looking to exploit your weaknesses. Can you outsmart it or take advantage of its intelligence in an epic best-of-300 game?

After you finish either game, we'll ask you a 3 minute, a 4 question exit questionnaire and a 28 multiple choice question questionnaire about your personality (only for 1st time volunteers), and then at the end show you how your RPS playing stacks up against others who came before.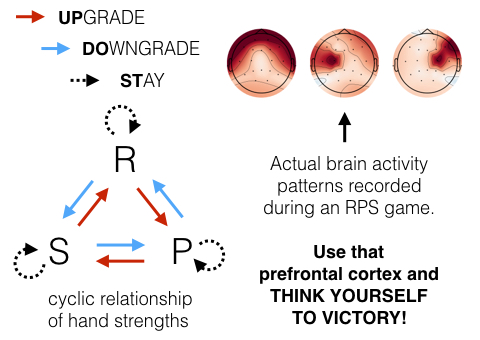 This study was reviewed by the Institutional Review Board of the Worcester Polytechnic Institute. To find out more about this study, you can contact Ali Yousefi, Ph.D, who is in charge of this study. Study information is available here